CRM Implementation
CRM
helps the organizations get out of the bracket of typical limitations of any traditional methods of business. In a more dynamic and competitive environment today, every step of business method affects the productivity of the organization. Get CRM integrated to make the work most productive in your organizations. We help you get CRM installed to communicate with your prospects, collaboration of sales data, acquire deals and help retain customer satisfaction.
Your firm will experience a phenomenal change with the implementation of CRM and the processes associated with the same. Our experts hold a strong experience in delivering CRM solutions to different organization to specifically cater the organizational needs. Your organizational structure will be analyzed and CRM solution will be delivered accordingly, to address the key bottlenecks and pain areas. This would not only enhance the productivity but bring a complete turn-around to the organization dynamics.
Some of the business benefits of our CRM implementation are as follows:
Increased sales through anticipation and analysis of historic trends
Identifying needs by understanding specific customer requirements
Cross-selling by suggesting alternatives or enhancements
Identifying profitable customers
Targeted marketing communications aimed specifically at customer needs
Personal approach and development of new or improved products and services
We would like to present a few case studies on how our Customers benefited from Zoho CRM customization done by us.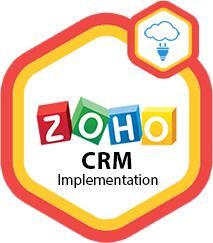 Zoho CRM Implementation
Suvichar Technologies is Zoho Alliance Partner. We have implemented Zoho CRM for several customers across the globe.